Water Tour promotes wise use of water in Central and Eastern Europe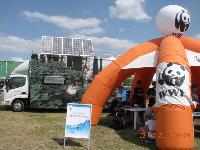 Copyright WWF
WWF's Water Tour - a road show which will tour Hungary, Bulgaria and Romania until the end of 2012 to raise public awareness of water and water resources – has made its first stop in the city of Budapest on Danube Day.
In Budapest visitors could play with the numerous exhibits, part of the road show, and learn about water related issues and sustainable use of water resources.
"With one of the exhibits, Water Tour visitors are introduced to endangered Danube fish species", said Emese Tar of WWF Hungary. "They can look for the connecting parts of each species and as they do that, information shows the size and habitat of each fish".
"In another exhibit, visitors use a water labyrinth to lead a toy fish out of polluted water and into clean water. Visitors could also learn about the many practical actions that we can all take to save water", Tar said.
Between now and the end of 2012 the Water Tour truck will make over 20 stops in major cities around the region, including capitals Bucharest and Sofia.
The next Water Tour stops are scheduled at the SZIN Festival in Szeged, Hungary (24-28 August) and in the following Bulgarian cities: Sofia – 27 September, Pleven - 29 September, Belene – 1 October, Svishtov – 2 October, Veliko Turnovo – 4 October, Rousse – 6 October and Silistra – 8 October.
WWF would like to gratefully acknowledge that the Water Tour is sponsored by the Coca Cola Foundation.
No comments added yet