Floods in Central Europe much more damaging because of unsustainable river management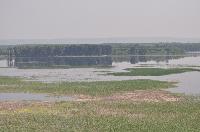 Copyright WWF
Many countries in the Danube basin will be increasingly threatened in the future by floods, such as those going on in Austria, Germany and other countries in Central Europe.
Unfortunately, the natural capacity of many rivers to retain flood water is constantly being lowered.

"Rivers are often obstructed with even more hydro power plants. If we want the Austrian rivers to provide natural flood control again, we would have to restore a total of 84,000 ha of floodplains", WWF river expert Christoph Walder explains. The figure origins from WWF's "Every hectare counts" study. This is the second big flood in Austria in ten years. It could not have been avoided, but healthy ecosystems would have cushioned the impact, WWF says.

The ecological flood protection is one of the main solutions that WWF proposes. The creation of retention areas and the protection of natural habitats in the catchment areas are as important as a consistent planning policy. Currently 8 hectares of Austria's land are sealed every day, which is as big as 12 football fields. Many of these areas are located in river valleys, and could be used for ecological flood protection. "Austria must increasingly adapt to long term changing climate conditions. Now it is high time for quick and effective measures", Walder said.

A 2006 study by the University of Natural Resources and Life Sciences of Vienna on behalf of WWF had showed that climate change in the Alps would lead to a strong increase in precipitation in winter and to more intense rain in summer.

The same year WWF and the Austrian Business Chamber launched an initiative for a modern flood management for the protection of life and the economy. Former floodplains should be restored especially in already densely built and canalized rivers to help mitigate flooding. "Some progress has been made, but now the opportunity should be used to initiate a countrywide flood control program", Walder suggests. WWF is ready to contribute with its know-how in the area.

According to WWF, dams are not a panacea against floods. Closer consideration should be given to restoration of the natural capacity of the floodplains of the Danube and other European rivers to retain floodwaters.

"Floodplains are like sponges allowing large volumes of water to be stored and slowly and safely released down rivers and into the groundwater", said Orieta Hulea, Conservation Director of WWF in Central and Eastern Europe. "If we cut them off from the main river beds and drain them for agriculture, as has happened on the Lower Danube and across most of Europe in the last century, their potential for flood retention is lost and the risks from floods are increased."

According to a 2010 WWF study, the potential for floodplain restoration along the Danube is about 800,000 ha. About 500,000 ha of these are along the Lower Danube. WWF calculated that if at least 100,000 ha from these potential areas would be restored at an estimated cost of 500,000 €/km², this would mean an investment of 500 million €, costing less than the damages caused by floods or the investment in higher and stronger dykes.

"Feasibility studies showing the potential areas for restoration and costs already exist at national level, all we need is a governmental decision to put this approach into practice", Hulea said.

According to WWF, today countries are better equipped to deal with floods. The Danube River Basin Management Plan, adopted in 2010, includes measures to restore the lateral connectivity of the river with its floodplain. But in the EU Danube Strategy which is expected to become an effective tool to protect both Danube's people and the river's rich biodiversity, floodplain restoration has yet to become a key priority action.

WWF is currently implementing floodplain restoration projects along the Danube in Romania and Bulgaria with financial support from LIFE+, the EU's financial instrument supporting environmental and nature conservation projects, and in partnership with local authorities and communities.

"What we know is that inaction, waiting for the next floods to hit again, is not an option", Hulea said.
No comments added yet