Danube Delta vulnerability to climate change to be tackled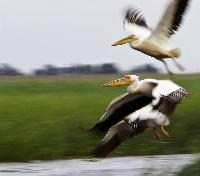 Copyright © WWF / Anton Vorauer
Key stakeholders in the Danube Delta region have agreed to tackle potential consequences of climate change by signing today a Joint Statement on Climate Proofing the Danube Delta.
Representatives of the Ministry of Environment of Moldova, local authorities, regional water and forest administrations, Directors of the Ukrainian and Romanian Danube Delta Biosphere Reserve and non-governmental organisations attended the official ceremony, organised by WWF Danube-Carpathian Programme in cooperation with the Center for Regional Studies and Danube Delta Biosphere Reserve (Ukraine).

The Joint Statement aims to strengthen cooperation between the key stakeholders in the broader Danube Delta Sub-Basin to fight the potential consequences of climate change.

Climate change already influences water quality and disturbs the balance of all ecosystems in the Delta, which in the future may significantly undermine the welfare of the local population. 100 000 people inhabiting the Danube Delta directly depend on the water and natural resources of the region.

The Joint Statement is based on and includes the main findings of the climate vulnerability assessment of the region which was developed in the framework of the three-year EC-funded project "Climate proofing the Danube Delta through integrated land and water management".

In addition, the conclusions and recommendations of the vulnerability assessment were recommended for integration into spatial planning, land and water management and public policy activities. Communication of the findings to local communities and authorities in Ukraine, Romania and Moldova was underlined as being of prime importance.

"The Joint Statement signed today and the Climate Adaptation Strategy which is being developed will help the governments and environmental organisations of the three countries to see the scale of the upcoming change, the challenges it presents and to tailor adaptation measures accordingly. These two documents will become the basis for a systemic approach to solving the problem, which is more effective than single measures", said Mykhailo Nesterenko, WWF Danube Delta Project Coordinator in Ukraine.

The UN has named climate change as one of the biggest challenges to human development of the 21st century. Increasing global temperatures, rising sea levels, and change in general climate patterns are some of the impacts that will likely affect not only the social and economic sides of life, but also natural ecosystems.

The project "Climate proofing the Danube Delta through integrated land and water management" is financed by the ENRTP Programme of the European Commission.
No comments added yet