Restoring nature's balance begins at Liberty Island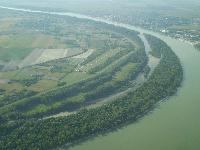 Copyright WWF Hungary
Liberty Island, WWF Hungary's largest conservation project, which aims to restore the island's natural floodplain forest and secure drinking water for local communities, has just seen the start of hydro-engineering works which will bring it back to nature.
Liberty Island's 3 km long side-arm was split into two by a rock embankment dam 30 years ago. As sediments built up and standing water settled in, the island slowly lost its healthy river ecosystem.

As part of restoration works, sediment has started to be dredged out from the side-arm, while at the same time the embankment is being opened to allow water to flow freely. A further challenge comes from the fact that two major water pipes that supply drinking water to the nearby municipalities of Pécs and Mohács need to be relocated.

"Several years of preparations are behind us", said Victoria Siposs, Liberty Island project manager. "We spent over two years clearing the 47 ha of the island of invasive plant species and planted a semi-natural forest of native trees like Populus alba and Polulus nigra on 9 ha. And all this time we were also working to prepare the hydro-engineering works such as dredging, the water pipe relocation and opening of the dam."

As a result of intensive regulation of the middle section of the Danube River, no new islands are formed and existing side-arms are slowly filling up. This puts at risk the survival of many fish species that depend on these unique habitats.

"The majority of fish species native to the Danube need slow and warm waters, such as the waters of side-arms, to hatch and rear their young", Siposs said.

Once the river ecosystem is restored, it is hoped that many native fish and bird species will return to the area.

Liberty Island was purchased by WWF Hungary in 2009 on behalf of the Danube-Drava National Park Directorate with funding from The Coca-Cola Company and the EU's Life + Nature fund. The restoration works are carried out in partnership with the Danube-Drava National Park, the Lower-Danube District Water Management Directorate and the water company DRV.

"The Liberty Island project has already left a huge legacy of conservation work and habitat rehabilitation", said Eda Pogany, Public Affairs & Communications Director at Coca-Cola HBC Hungary. "The Danube has a special regional importance – for growth of local fisheries, as well as for clean drinking water for the nearby municipalities of Pécs and Mohács".

Project work will be completed in 2013 when natural river dynamics will fully return to Liberty Island's side-arm. The restoration work will ultimately create an undisturbed natural floodplain forest, secure drinking water for the municipalities of Pécs and Mohács, and enhance opportunities for eco-friendly tourism and recreation in the area.
No comments added yet